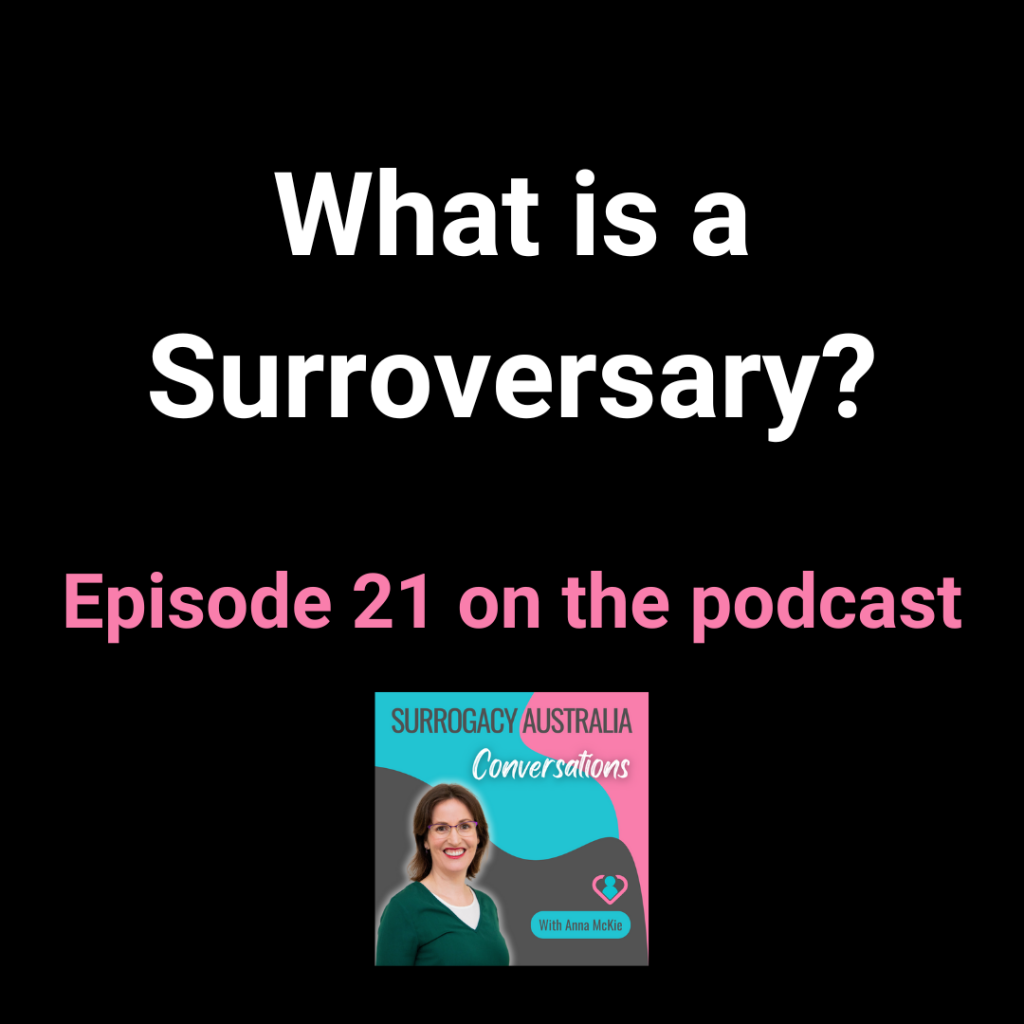 .
Episode 21 – Education – What is a Surroversary?
An anniversary for the surrogacy team to mark a significant event (that is not the birthday of surro bub). There are also other milestones which should be celebrated as a team, and I'll unpack these in this episode.
.
This page is part of a series of surrogacy education episodes from Anna. On the main podcast page you will find recent episodes and links to other categories: surrogates, gay dads, straight mums and guest / theme.
Join Anna McKie in conversation with surrogates and parents who have navigated Australian altruistic surrogacy. Anna is a gestational surrogate, high school Math teacher and surrogacy educator working with Surrogacy Australia and running SASS (Surrogacy Australia's Support Service).
The other episodes of the podcast were recorded as part of our free, fortnightly webinar series. If you would like to attend one, check out our dates and registration links. The recordings can also be found on our YouTube channel so you can see the photos that are described in the recordings.
Follow us on Instagram, Facebook and YouTube.
TRANSCRIPT OF THE EPISODE
00:06
What is a Surroversary? It would be an anniversary for the surrogacy team to mark a significant event, something that's not the birthday of the surrogate baby. For a bit of context, another word we use in our community is a surrogate ship, and that was coined by a surrogate in the community. A surrogate ship is more than a friendship. Traditional friendships you do things 50-50 together. You don't usually have a baby with your friends. In surrogacy obviously you do, but it's not quite the same as a lifelong partner.
00:33
Although that intimacy of having a baby together is something that you're doing as a surrogacy team and hence the word surrogacy. We've found in the surrogacy community that there are certain events and milestones that need to be marked in your surrogacy. So as a team, you need to discuss what catch-ups are going to look like post-birth and into the future. And it might be helpful to consider the purpose of each of those catch-ups to start with at least. With other normal friends, often when we catch up, the reason is just to spend time together. But after surrogacy,
01:02
After the adults and the families have gone on this enormous journey of surrogacy, it's important to make sure that the following suggestions are all celebrated in some way over time. This would include events to celebrate, of course that Surroversary that I've mentioned, to celebrate the new parents, the surrogate, and then that previous friendship or family connection. So to celebrate that previous friendship connection or family connection,
01:27
there haven't been many catch-ups post-birth where you just hang out of friends, perhaps a conversation could be had to say, hey I miss you guys, my friendship cup is feeling a little bit low at the moment, could we make a time to hang out in the future? Here are some dates that are good for us or any of those good for you. Some ideas to celebrate the surrogate from within that surrey ship. I asked that one of the dads that I carried for that they come to Friday afternoon drinks with my work friends on one day and that they bring Baker.
01:53
so that that group of friends in my life who were there to support me and watched me be pregnant with their baby, I could bring Baker along and basically celebrate him, show him off a little bit. And so both dads came to that, which was really special for me. We also met with some of my mom friends at a cafe and they brought Baker along too, of course, because those friends again had supported me through this and watched me be pregnant. So it was really special that we could celebrate that part of the journey of me as their surrogate.
02:18
In terms of celebrating the surrogacy team, we took this advice here for creating a Surroversary. And that advice was given by psychologist Katrina Hale. She's a counselor who specializes just in surrogacy based in Sydney. And she's had lots of great ideas for the community about how to form these surro-ships and to work on them. So for this Surroversary, the advice that we took is to make a date that you'll all catch up annually, the adults that is, to mark the epic journey that you went on as a team. It's a very significant thing that you'll do together.
02:47
It's a chance to pause in life, everybody get babysitters and to go out together. It needs to be an event that's not connected to the birthday or the first birthday of the baby born because that's a significant event to be celebrated separately or not connected to other milestones or events like Christmas. Perhaps the team might do it for their first successful embryo transfer, so celebrating on that date or the day the first text message or for us it was the day that I officially offered to be their surrogate. We had gone to an escape room, an adventure room and then I officially offered after that.
03:16
This recording is made in October 2023 and we celebrated our Surroversary in September recently by all going out to dinner, just the adults. To continue to celebrate that previous friendship that was made, for us that looks like catch-ups with the kids at a playground near their house, followed up by fish and chips on the beach sometimes, or they come up to our house and help us put up Christmas lights as they've done for five years in a row now, or spending time at each other's houses playing board games or sports you have in common.
03:43
and remembering to include the children of the surrogate as they will want to spend time with the adults and Surrobub too. There are also events to celebrate the coming of the new parents, events like baby showers, the first birthday, Mother and Father's Day, to celebrate those parenting milestones. With all of these milestones or catch-ups, there is probably or should be still recognition of the whole surrogacy team as none of these events in life would happen if it weren't for the epic journey that the team traveled on together.
04:11
For example, the first birthday and mother's day, father's day, are significant because it was surrogacy that brought people together so that the parents could have the opportunity to celebrate a first birthday or a mother's or father's day. So acknowledging the surrogate and her family on those days really does mean a lot to her. Is she acknowledged every year for the rest of time? There's no black and white answer for how to do that, but I would encourage people to put themselves in the shoes of surrogates and consider how much effort the acknowledgement is versus the impact that it will have.
04:40
But every team is different and it's okay to do things differently. Just keep communicating together as a team even after birth. If you're looking for more support from me, one-on-one, register for SAS at surrogacyaustralia.org and think of me as your Siri for surrogacy. Until next time, welcome to the Village.
.
Looking to find a surrogate in Australia? Consider joining ⁠SASS⁠.
Looking for an overview of surrogacy? Join us in a free, fortnightly Wednesday night ⁠webinar⁠.
Looking to chat with other IPs and surrogates in a casual setting? Join us for a monthly ⁠Zoom⁠ catch up, one Friday of each month.
Looking to hear stories from parents through surrogacy and surrogates? Listen to our ⁠podcast⁠ series or watch episodes on our ⁠YouTube⁠ channel.
Looking for support one-on-one? Register for ⁠SASS⁠ to connect with me – your Siri for Surrogacy, or book in for a private consultation ⁠sass@surrogacyaustralia.org