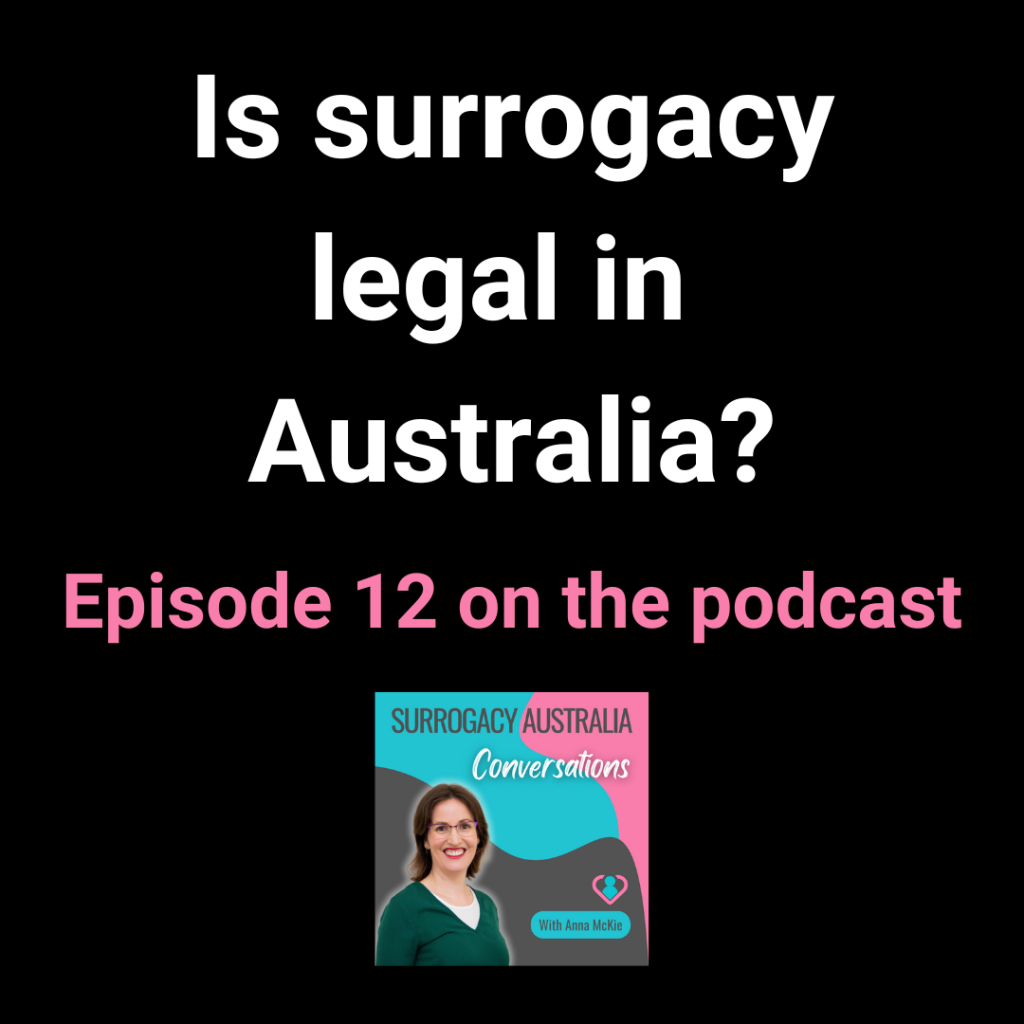 .
Episode 12 – Education – Is surrogacy legal in Australia?
Yes – but we do the altruistic model, not the commercial model. What are the differences between the two? Who is the legal parent at birth? What steps do you have to go through legally before getting pregnant?
If you want to consider commercial overseas surrogacy, check out Growing Families.

Previous episodes will explain How much surrogacy costs in Australia and How do I find a surrogate?
.
This page is part of a series of surrogacy education episodes from Anna. On the main podcast page you will find recent episodes and links to other categories: surrogates, gay dads, straight mums and guest / theme.
Join Anna McKie in conversation with surrogates and parents who have navigated Australian altruistic surrogacy. Anna is a gestational surrogate, high school Math teacher and surrogacy educator working with Surrogacy Australia and running SASS (Surrogacy Australia's Support Service).
The other episodes of the podcast were recorded as part of our free, fortnightly webinar series. If you would like to attend one, check out our dates and registration links. The recordings can also be found on our YouTube channel so you can see the photos that are described in the recordings.
Follow us on Instagram, Facebook and YouTube.
TRANSCRIPT OF THE EPISODE
00:00
Is surrogacy legal in Australia? Yes, but the altruistic model. This is where surrogates have their medical and surrogacy related costs paid for by the IPs, the intended parents. We do not receive any amount of money to be a surrogate. Commercial surrogacy is where the surrogate is paid on top of those expenses and that form of surrogacy is illegal in Australia. So which model of surrogacy do you pick?
00:28
There's no right or wrong answer to that. What are your priorities? Is starting or expanding your family as soon as possible your main motivator? Or can you go with the flow and the uncertainty of ever finding a surrogate in Australia? Would you like some sense of control over how quickly you could be matched with a surrogate, complete the paperwork and have an embryo transfer? And what about the future? How much contact would you like to maintain with your surrogate? How much will be possible due to distance and language barriers?
00:56
How much of a presence do you want your surrogate to be in your child's life? If you're looking for more control over how soon you can start the ball rolling and the certainty of ever being matched with a surrogate, overseas surrogacy is probably for you. I'm not an expert on commercial surrogacy, but there's a link in the show notes to the group Growing Families where you could investigate that further. But assuming you do decide to stay in Australia for altruistic surrogacy, what about an overview of some of the other laws associated with surrogacy? So let's go through them.
01:24
There are no uniform laws for surrogacy nationally, so it goes by the laws of the state where the IPs live, but the laws are quite similar from state to state. IPs need to qualify for surrogacy, so either not having a uterus or being approved for surrogacy by a specialist. Surrogates are usually over 25 years old, and they have usually had their own children. If a surrogate has not had children, she can only carry for IPs who live in New South Wales, Queensland, and South Australia. It doesn't matter where she lives,
01:53
because it goes by the laws of the state where the IPs live. Tasmanian IPs must have a surrogate who lives in Tasmania. Hopefully that's a law that will be changed in the coming future. Both the IPs and the surrogate need to have obtained legal advice before getting pregnant, and that's usually in the form of a written agreement done with two separate lawyers. The team must also complete counseling with a surrogacy counselor before getting pregnant. Pregnancy usually takes place through an IVF clinic, for those of us that do gestational surrogacy, which is the majority.
02:22
Not many IVF clinics are yet facilitating traditional surrogacy where the surrogate uses her own eggs and so teams need to do home insemination once they've completed the counselling and the legals. But hopefully more IVF clinics will take that on in the future. So to confirm, both types of surrogacy are legal in most states of Australia. Gestational means there's no genetic connection to the surrogate and traditional where the surrogate uses her own egg. Traditional surrogacy is not currently legal in the ACT yet, but again hopefully that'll be updated next time they
02:51
review their laws. The first birth certificate will have the name of the surrogate and her partner on that, and the reason for that is to transfer parentage from the surrogate to the now parents. And then after the parentage order has been made, a new birth certificate is drawn up with the names of the parents listed. On a personal note now, surrogacy really does come down to trust, not these legal agreements. Those agreements are actually not enforceable except for the surrogacy related costs, and we don't believe they should be enforceable.
03:18
because you can never force a woman to hand over a baby, nor force her to have a termination or certain tests during pregnancy. So as IPs at the beginning, you might be nervous that a surrogate might want to keep your baby. Trust me, we don't. If a surrogate was looking to have another child, there are much easier ways for her to go about that than having to do surrogacy. Sometimes our biggest fears are that the IPs won't take the baby and that we will be left with a keeper child that we don't want.
03:45
We've finished having our family and now we want to see them expand theirs. And also, IPs trust us to do the right thing for say, nine months in pregnancy to share our body and grow their baby. And then we trust them to do the right thing for longer than nine months, for the rest of time. Because there's no law to force them to continue to have a friendship with us, so there really is a lot of trust both ways. I hope this gives you an overview of some of the surrogacy laws that it is legal in Australia and explains how the altruistic model works.
04:15
If you're enjoying this podcast, I kindly ask you to share it with others or leave a rating or a review wherever you listen to the show. Until next time, welcome to the Village.
.
Looking to find a surrogate in Australia? Consider joining ⁠SASS⁠.
Looking for an overview of surrogacy? Join us in a free, fortnightly Wednesday night ⁠webinar⁠.
Looking to chat with other IPs and surrogates in a casual setting? Join us for a monthly ⁠Zoom⁠ catch up, one Friday of each month.
Looking to hear stories from parents through surrogacy and surrogates? Listen to our ⁠podcast⁠ series or watch episodes on our ⁠YouTube⁠ channel.
Looking for support one-on-one? Register for ⁠SASS⁠ to connect with me – your Siri for Surrogacy, or book in for a private consultation ⁠sass@surrogacyaustralia.org