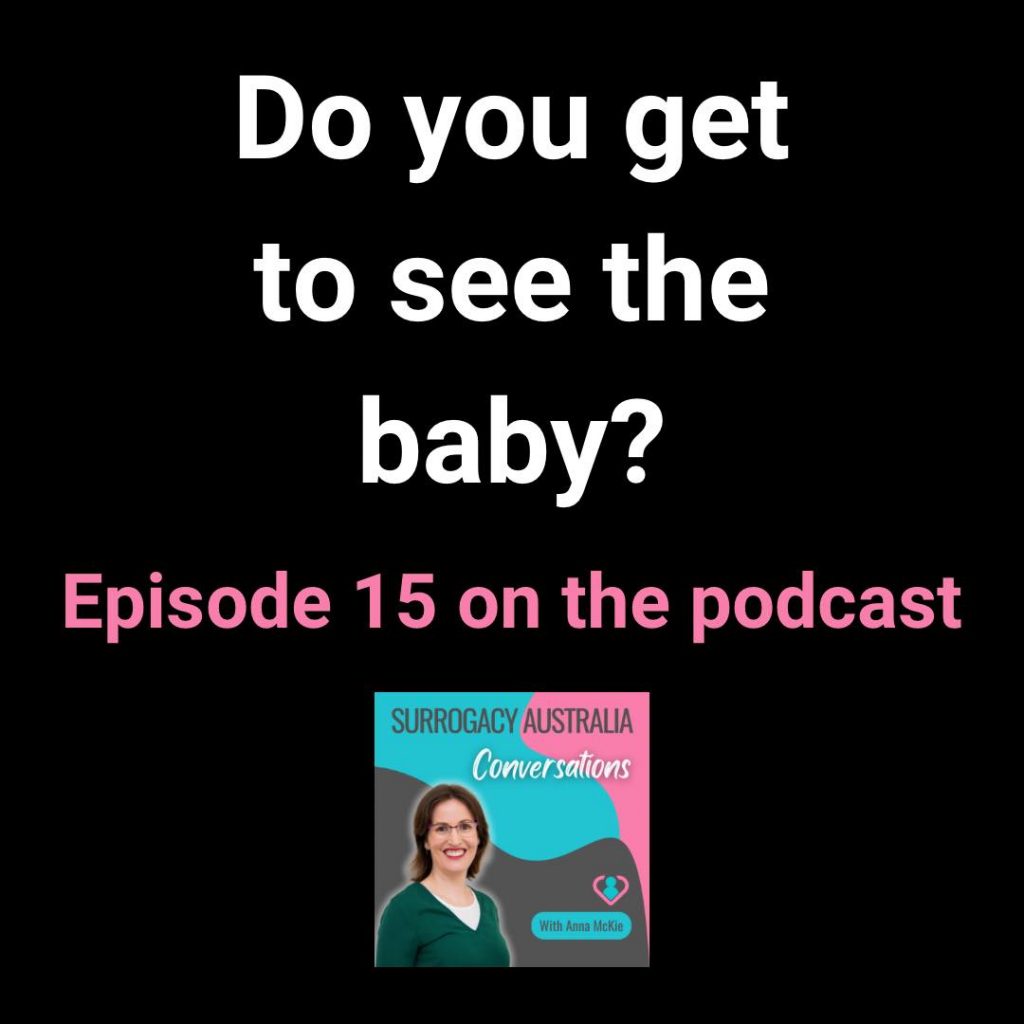 .
Episode 15 – Education – Do you get to see the baby?
Yes – is the answer from most surrogates. We become surrogates so we can continue to see the baby we birthed and also to continue the friendship with the Intended Parents (IPs).
.
This page is part of a series of surrogacy education episodes from Anna. On the main podcast page you will find recent episodes and links to other categories: surrogates, gay dads, straight mums and guest / theme.
Join Anna McKie in conversation with surrogates and parents who have navigated Australian altruistic surrogacy. Anna is a gestational surrogate, high school Math teacher and surrogacy educator working with Surrogacy Australia and running SASS (Surrogacy Australia's Support Service).
The other episodes of the podcast were recorded as part of our free, fortnightly webinar series. If you would like to attend one, check out our dates and registration links. The recordings can also be found on our YouTube channel so you can see the photos that are described in the recordings.
Follow us on Instagram, Facebook and YouTube.
TRANSCRIPT OF THE EPISODE
00:00
Do you get to see the baby? Yes, is the answer from most surrogates. I personally don't like this question, I don't like the wording of it, the GET to see the baby. Am I allowed to? Or do the parents allow me to see the baby? We become surrogates so that we can continue to see the baby that we birthed and we watch them grow into a little person and also to continue the friendship with the intended parents, the IPs.
00:29
So do we get to? Yes, we get to see the baby because we want to and that's why we become surrogates. I'll add that if you're a surrogate carrying for friends or family, I'm assuming you would get to see the baby because you've already got an established friendship or family connection. So you know what contact looks like. You've already established how often you catch up as friends or family. So you would go back to that sort of pattern after birth. So yes, you would get to see the baby is what I assume for surrogates who carry for people they know.
00:57
I'll share stories from three surrogates who all birthed for IPs who were initially strangers to them. From Kirsty-Lee in Brisbane "yes of course, his parents are my friends and we spend time together regularly, like I do any of our friends." From Madeleine in Sydney "yes I get to see the baby, but in times of COVID it made it really hard to actually hang out. I get lots of video calls and photographs and find out how they're doing, and I'm completely in her life as much as any of my other friends who have kids."
01:26
From Sarah in Canberra, "In short, yes. However, the question should be, how often do you get to see the baby and or spend time with the baby? The answer to this question purely depends on what you and your IPs are comfortable with and agree on. It is therefore crucial that you have this discussion early on. Maybe you are both fine with a visit once a year. Maybe you want to be local so you can visit every second weekend. Or maybe you are happy with a virtual check-in when it suits all parties. Another thing to then ask is,
01:54
What if you feel differently after the baby arrives? What if initially you wanted to visit in person once a year, but now you want to make it more often? Will your IPs be open to change? Having open communication at the start of the relationship and being flexible to change will put you in a better position after the baby is born." For my own story, yes, we get to see Baker.
02:15
At the time of recording, it's nearly three years since his birth. We see Baker and his dads at times like Baker's birthday party, when the adults go out to dinner once or twice a year, and then a couple of extra times a year when we catch up at a playground or at each other's houses. Admittedly, my kids do ask to see the dads and Baker more, but that can be tricky to coordinate sometimes as their lives are now busy with a toddler and so it's a bit hard to balance how often that we put pressure on them to catch up, how much I need to catch up with them versus how much my kids would like to catch up with them.
02:45
That's something for surrogates to really bear in mind about your kids and how much they might want to see them and trying to facilitate that as much as possible for the kids that have gone on this crazy ride of surrogacy with us too. If the relationship has dissolved post-birth, which is a shame for everyone, then there would be occasions when the surrogate doesn't get to see the baby. How do you make sure this doesn't happen? That's a really hard question. And I'll try and cover that in my next educational episode, what if the relationship dissolves post-birth?
03:13
If you're looking for more guidance on how to navigate surrogacy in Australia, please check out SASS, Surrogacy Australia's Support Service, so you can have me as your navigation tool on this journey. Until next time, welcome to the village.
.
Looking to find a surrogate in Australia? Consider joining ⁠SASS⁠.
Looking for an overview of surrogacy? Join us in a free, fortnightly Wednesday night ⁠webinar⁠.
Looking to chat with other IPs and surrogates in a casual setting? Join us for a monthly ⁠Zoom⁠ catch up, one Friday of each month.
Looking to hear stories from parents through surrogacy and surrogates? Listen to our ⁠podcast⁠ series or watch episodes on our ⁠YouTube⁠ channel.
Looking for support one-on-one? Register for ⁠SASS⁠ to connect with me – your Siri for Surrogacy, or book in for a private consultation ⁠sass@surrogacyaustralia.org